Update April 16, 2016
From today I am adding links and comments at the opening of this post. The reader should be aware of date/time notations. As the title says, these are "notes," not intended to create a narrative but to monitor a social media trend in real time. As the host I am also tweaking the date of publication, which saves combing the archives for lost or forgotten content.
The Secret Rules of the Internet
The murky history of moderation, and how it's shaping the future of free speech
By Catherine Buni & Soraya Chemaly
This extremely long read at The Verge is tiresome, but it's hard to know how it might be edited to be shorter. The subject is huge. The backstory is byzantine. And thanks to technology, the content is overwhelming.
Mora-Blanco is one of more than a dozen current and former employees and contractors of major internet platforms from YouTube to Facebook who spoke to us candidly about the dawn of content moderation. Many of these individuals are going public with their experiences for the first time. Their stories reveal how the boundaries of free speech were drawn during a period of explosive growth for a high-stakes public domain, one that did not exist for most of human history. As law professor Jeffrey Rosen first said many years ago of Facebook, these platforms have "more power in determining who can speak and who can be heard around the globe than any Supreme Court justice, any king or any president."
...Today, YouTube's billion-plus users upload 400 hours of video every minute. Every hour, Instagram users generate 146 million "likes" and Twitter users send 21 million tweets. Last August, Mark Zuckerberg posted on Facebook that the site had passed "an important milestone: For the first time ever, one billion people used Facebook in a single day."
The moderators of these platforms — perched uneasily at the intersection of corporate profits, social responsibility, and human rights — have a powerful impact on free speech, government dissent, the shaping of social norms, user safety, and the meaning of privacy. What flagged content should be removed? Who decides what stays and why? What constitutes newsworthiness? Threat? Harm? When should law enforcement be involved?
While public debates rage about government censorship and free speech on college campuses, customer content management constitutes the quiet transnational transfer of free-speech decisions to the private, corporately managed corners of the internet where people weigh competing values in hidden and proprietary ways. Moderation, explains Microsoft researcher Kate Crawford, is "a profoundly human decision-making process about what constitutes appropriate speech in the public domain."
Fasten your seatbelt. This is a wild ride.
Update April 13, 2016:
The dark side of Guardian comments
As part of a series on the rising global phenomenon of online harassment, the Guardian commissioned research into the 70m comments left on its site since 2006 and discovered that of the 10 most abused writers eight are women, and the two men are black. Hear from three of those writers, explore the data and help us host better conversations online
by Becky Gardiner, Mahana Mansfield, Ian Anderson, Josh Holder, Daan Louterand Monica Ulmanu
New research into our own comment threads provides the first quantitative evidence for what female journalists have long suspected: that articles written by women attract more abuse and dismissive trolling than those written by men, regardless of what the article is about.
Although the majority of our regular opinion writers are white men, we found that those who experienced the highest levels of abuse and dismissive trolling were not. The 10 regular writers who got the most abuse were eight women (four white and four non-white) and two black men. Two of the women and one of the men were gay. And of the eight women in the "top 10", one was Muslim and one Jewish.
And the 10 regular writers who got the least abuse? All men.
How should digital news organisations respond to this? Some say it is simple – "Don't read the comments" or, better still, switch them off altogether. And many have done just that, disabling their comment threads for good because they became too taxing to bother with.But in so many cases journalism is enriched by responses from its readers. So why disable all comments when only a small minority is a problem?
At the Guardian, we felt it was high time to examine the problem rather than turn away.
We decided to treat the 70m comments that have been left on the Guardian – and in particular the comments that have been blocked by our moderators – as a huge data set to be explored rather than a problem to be brushed under the carpet.This is what we discovered.
[Go to the link for details.]
Another Facebook post becomes the springboard for this blog post.
I posted two comments at the same time...
Comment #1
The source for this link, Homeschoolers Anonymous, is a support group for people whose experience growing up being "homeschooled" has not resulted in, shall we say, the most desireable outcomes. Read the introduction closely and check a few of the links. Being homeschooled is not always a pretty picture, especially when practiced by the fundamentalist Christian lunatic fringe. Read about "blanket training."
https://homeschoolersanonymous.wordpress.com/.../blanket.../
Comment #2
ATI is the acronym for American Training Institute.
IBLP stands for Institute of Basic Life Principles.
These are fundamentalist Christian cults.
Don't take my word for it. Do your own homework. Read the arguments and recriminations in the comments threads.
Listen to the backstories and get a sense of conflicted narratives.
Public personas notwithstanding, these are not nice people.
Check these links:
My thoughts at this point are unclear. This blogpost is a way of scribbling notes to myself as I connect dots not yet clearly connected. One dot involves the growth and impact of public shaming which because of social media have shifted into overdrive. Another dot, which I call victim-blaming, has become a growing trend (also pumped up by social media). It has been around since the Massachusetts Bay Colony and Puritanism, but again, with the help of both social and commercial media has become a gorilla in the room.
Shame and blame go together like cream and sugar. Something tells me that religious extremism is foundational to both.
And religious extremism is not limited to one faith. The same dynamic driving these trends in America also energizes Islamic extremism so much in the news, and the uncharacteristic violence of Gnanasara Buddhists in Myanmar targeting Rohingya Muslims in that country.
This snip from Time
(August 2014) describes several violent groups from Buddhist teaching with has historically been famously non-violent.
BBS, or Bodu Bala Sena, otherwise known as Buddhist Power Force, is a Buddhist supremacist group accused of stirring sectarian hatred in Sri Lanka. Led by a monk, Galagoda Aththe Gnanasara Thero, BBS accuses Sri Lanka's Muslims of threatening the nation's Buddhist identity, and enjoys support at high levels. Gotabaya Rajapaksa, the President's brother who also serves as Secretary of Defense, has been an outspoken supporter of BBS in the past.
"BBS echoes the sympathies and the prejudices of the majority Buddhist population," says Jehan Perera, executive director of the National Peace Council NGO. "So the views have a certain resonance, and the media gives voice to that, and the counter view is toned down or even censored."
[snip]
The Sri Lankan experience is far from unique. In Burma, officially known as Myanmar, just 1,000 miles (1,600 km) across the Bay of Bengal, an extremist Buddhist movement called 969 is waging a parallel war, using identical tactics as BBS. (Both groups rose to prominence around 2012. Its leader is also a monk, Wirathu. When anti-Muslim riots erupted in the central Burmese town of Meiktila in April last year, clashes that killed dozens and displaced thousands, he arrived in the middle of the carnage, although later claimed to have tried to halt the bloodshed. Then, during last month's communal riots in Mandalay, where Wirathu's monastery is based, he fanned the flames through an incendiary Facebook post warning of Muslims "armed to teeth with swords and spears" preparing a jihad against local Buddhists.
Tim Hunt will become a footnote in this discussion, but his case illustrates my point. I want to keep my comment at
another Facebook link
(below).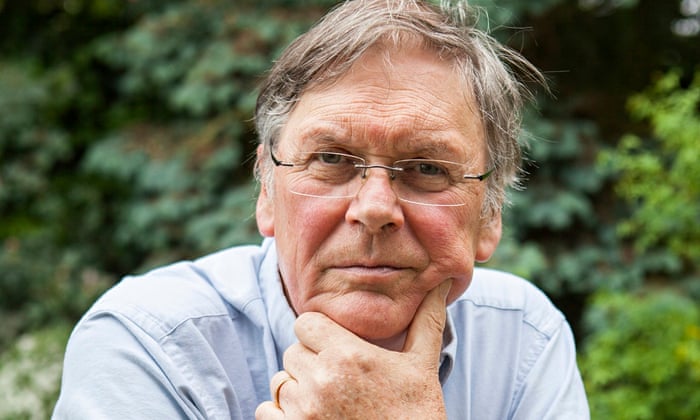 Tim Hunt at home in Hertfordshire.
Photo: Antonio Olmos for the Observer
Today's social media vehicles are like all new toys -- TNT, X-Rays, DDT -- and we haven't learned how to keep them in check. Only too late do we discover dangers and downsides.
This guy is yet another target of public shaming way out of proportion to what he said. Lewinsky's return got my attention. And since then I have become more alert to the unexpected consequences of snap-chat and sexting. Heck, politicians and sports figures screw up with cameras and audio rolling and sometimes let go with far worse than this. Then there are the lyrics of what passes for music these days.
And I find most anything from the NRA more offensive than this. Gimme a break. This is very small potatoes.
The sin he committed was speaking carelessly in violation of one of today's most politically sensitive subjects, the mistreatment of women.
...Hunt had been invited to the world conference of science journalists in Seoul and had been asked to speak at a meeting about women in science. His brief remarks contained 39 words that have subsequently come to haunt him.
"Let me tell you about my trouble with girls. Three things happen when they are in the lab. You fall in love with them, they fall in love with you, and when you criticise them, they cry," he told delegates.
The reaction was a
media explosion
dramatic as any plane crash. The reader will have no trouble digging up the details. (Wikipedia is a moving target, but
see what it may provide.)
~~~~~
Returning to the original link about Rachel Dolezal,
this listicle at Wonkette
ledes with a somewhat snarky take on the story. I think of Wonkette as being more sensitive to shame and blame targets but in this case they seem to be on the bandwagon.
First person with a white dark side.
In our noble and oh-so-exceptional country, panels of men explain how ladies and their parts work, "not a scientist" politicians teach us about science and how it's all fake anyway, and people who think we're the U.S. of Jesus tell Jews how to be do Being A Jew correctly. So this sounds about right and exactly what we deserve. Black-but-actually-not Rachel Dolezal — who identifies as black because she really hates whitey (read: her parents, and they're not the boss of her!) — can't be president of the Spokane chapter of the NAACP anymore, so maybe she can be a reality TV star! It is the career choice for anyone who has failed at reality life. (See, for example, every reality TV star ever.)
NAACP race faker Rachel Dolezal stepped down from her job Monday, but RadarOnline.com has learned she already has a new gig in the works: Dolezal is fielding multiple offers to film a reality show, and is seeking professional representation after her bombshell interview on the Today show. […]
"Rachel wants to use all of the publicity to raise awareness about race relations," the source said.
Wow, if only there were some black woman somewhere in America, willing and able to raise awareness about race relations. Oh well, guess not, so Dolezal, who used to be a white lady who got reverse-racismed, before she became a black lady who got old fashioned-style racismed, will have to do it. For her people. And the struggle, man. Race is only a social construct, after all, but fortune and fame? That shit is for real. And this way, maybe America will at long last be willing to watch a black woman talk about race. As long as she's white.
That's a new word for me --
racismed
. I need to remember that. I'll add that and
race faker
to the toolbox of selective snark.
It's no surprise that the homeschool backstory includes a variety of styles, many deriving from faith-based approaches to teaching and child-rearing.
Religious foundations come as no surprise, since parochial education has often had an elite status. The post-secondary level also includes a rich heritage of faith-supported colleges and universities.
The Home School Legal Defense Association (HSLDA)
is, as the name says, an advocacy group founded in 1983.
Through the years, HSLDA's primary goal has remained the same—to bring together a large number of homeschooling families so that each can have a low-cost method of obtaining quality legal defense. Today, HSLDA gives tens of thousands of families the freedom to homeschool without having to face legal threats alone. Through many families sticking together, we have been able to keep the cost of a year's membership close to the rate that a family would have to pay for an hour of an attorney's time almost anywhere else.
After a family joins HSLDA, there are no further charges of any kind for defending them in court. HSLDA pays in full all attorney fees, expert witness costs, travel expenses, and all other court costs permissible by state law for us to pay.
Recently a rift opened up between that group and the influential, widespread homeschool ministries of Doug Phillips and Bill Gothard. Comments left at following link are as informative as the main story.
Homeschool leader disavows 'patriarchy'HSLDA founder Michael P. Farris criticizes the teachings of former ministry leaders Doug Phillips and Bill GothardBy DANIEL JAMES DEVINEAug. 29, 2014
Longtime homeschool attorney and advocate Michael P. Farris, who founded the Home School Legal Defense Association in 1983 and founded Patrick Henry College in 2000, issued a public statement Wednesday distancing himself from "patriarchy." Specifically, he criticized the teachings of two leaders formerly popular among homeschoolers, Doug Phillips and Bill Gothard, who both recently stepped down from ministries amid allegations of sexual misconduct
Phillips, an attorney himself, worked with Farris at HSLDA for six years. He went on to launch The Vision Forum Inc. and Vision Forum Ministries with his wife Beall. Last year, Phillips resigned as president of Vision Forum Ministries after admitting to an inappropriate relationship with a young woman. The ministry closed soon after.
Gothard was a longtime ministry leader who drew thousands of families to weeklong seminars in the 1970s and '80s, teaching practical applications of biblical principles and warning against debt and rock music. He resigned as president of the Institute in Basic Life Principles in March amid allegations of sexual misconduct with multiple young women. (Gothard admitted to crossing the "boundaries of discretion" with some young women but denied any "sexual intent.")
This post is focused on shame and blame, not homeschooling. But faith and homeschooling, like shame and blame, also go together like cream and sugar.
There is more at the link. As I said, take a look at the comments for an illustration of blame and shame in action. It's fairly easy to spot, wrapped in a thin tissue of clenched-teeth politeness, although #19 is more homily than argument.
I must admit to personal bias on my part because my views on education in general and private schools in particular prejudice me about homeschools, and not in a good way. That said, let's get back to the subject of blame and shame.
Monica Lewinsky's return caught my attention immediately. A light came on and all at once I began to look at my Facebook and Twitter links through a new lens. I realized that social media are at some level becoming anti-social.
The polarization of politics is a natural development. The gap separating rich and poor is symptomatic. Racial and ethnic conflicts fit neatly into the template. Conspiracy advocates, birthers, science deniers -- all these and more are symptomatic of a Second World of perception that dismisses empathy, reflection, nuance or what us old-timers once called common sense.
No list of shame and blame examples would be complete without mention of Kim Kardashian. She illustrates the most effective, perhaps only way to cope with the slings and arrows of celebrity is to make lemonade from what seems to be a volcanic eruption of lemons.
Here is another figure I only know by name and headlines. She got my attention a couple weeks ago when the NPR game show Wait! Wait! had her for a guest. I happened to be listening and was surprised at what struck me as a rather pedestrian personality, a little self-deprecating, hugely ordinary for someone I expected to be a roman candle of controversy. Instead she was almost child-like in what came across as a high-school cheerleader level of innocence. A current Facebook link floats in an ocean of shame and blame. I'm confident there will be many more. Look at the endless number of snarky takedowns, most of them shimmering with what my commenter quoted as "a form of sanctimonious judgement [which] spends more time banning forms of social activity that it regards as counter-progressive than it does in enhancing choice or recommending tolerance for the choices of others."
~~~~~~~~~~~~~
This appeared in my Facebook feed.
I haven't revisited this post for some time but the phenomenon still grows.
Sadly it is now just a few hours after the Iowa caucuses in 2016 and Bernie Sanders has at this writing ridden a surge of popularity to a tie with Hillary Clinton in the contest to select the Democratic candidate for this year's presidential election. And in the excitement of the moment I have found two examples of shame and blame carelessness, both of which derive from the Sanders surge.
This image of Monica Lewinsky is a cheap shot that many will find clever but which I find disgusting for reasons already noted. The other is a defensive rant from the Hillary Clinton camp that captures a measure of rage and frustration that is completely understandable.
I'm copying it here in toto lest it be taken down later.
As Bernie Sanders and Hillary Clinton have become head-to-head rivals, their denizens have begun attacking each other, the Democratic Party eating itself like a snake that loves science and Planned Parenthood. And things have gotten ugly.
For many of us, it's not simply politics as usual. It's very personal.
For me, the backlash against Hillary Clinton feels very, very personal.
Can you imagine how absolutely infuriating it must be for Hillary to have to work so hard to be likable, but strong? Hip, but above the need to be seen as cool? For everything she says to be perfect because she'd be crucified otherwise, meanwhile Bernie Sanders could say pretty much anything he wants and it would be seen as the goddamn revolution? I'm so infuriated on her behalf. Because what you like about Bernie, what they like about Trump, she doesn't get to do that. She doesn't get to be all wild hair and yelling. Do I wish different? Of course. And the first female president would go a long way toward making that difference possible.
So since Hillary cannot yell, since by the virtue of being sane and not a white man she is forced to be the biggest adult in the room, just like Obama has had to for eight goddamn years, I will yell for her.
FIRST AND FUCKING FOREMOST, COOL, YOU LIKE BERNIE'S WISHES AND DREAMS APPROACH TO POLITICS. "FREE COLLEGE FOR EVERYONE AND A GODDAMN PONY." YES, THAT SOUNDS FUCKING WONDERFUL BUT DO YOU THINK HILLARY COULD EVEN SAY THOSE WORDS WITHOUT FOX NEWS LITERALLY BURYING HER ALIVE IN TAMPONS AND CRUCIFIXES?
YOU DON'T LIKE THAT SHE HAD CERTAIN NOW-UNACCEPTABLE POLICIES BACK IN THE '90S? HEY, I GET THAT THAT SHIT SEEMS LIKE LAST WEEK, BUT IT WAS ANOTHER GODDAMN WORLD ENTIRELY. I GET THAT WE ALL THINK WE'RE THE UNIVERSE'S BESTEST HUMANS BUT MOST OF THIS COUNTRY JUST LEARNED TRANS PEOPLE EXIST, LIKE, YESTERDAY. LET'S NOT PRETEND WE'VE ALL BEEN THE MOST INCLUSIVE PROGRESSIVE SUPER-COOL PEEPS FOR LIKE A THOUSAND YEARS NOW. PROGRESSIVE MEANS JUST THAT--PROGRESS. SHIT THAT WAS A BIG GODDAMN DEAL AT THE TIME IS NOT COOL NOW. PROGRESS. IT'S FUCKING SWELL.
YOU DON'T LIKE THAT SHE PLAYS THE GAME? THAT SHE HAS TIES TO THE ESTABLISHMENT? FOR ONE THING, THAT'S HOW SHIT FUCKING GETS DONE. FOR THE OTHER THING, THE BIGGEST THING, A WOMAN DOESN'T GET THE FUCKING OPTION *NOT* TO PLAY THE GAME. NOT NOW. NOT YET. WE ALL WISH THINGS WERE DIFFERENT BUT THEY DON'T BECOME DIFFERENT WHILE WE'RE ATTACKING THE FUCKING PERSON WHO CAN MAKE THAT POSSIBLE.
AND THESE NEW BERNIE VS. HILLARY MEMES. WHAT THE FUCK ARE YOU EVEN DOING?
SERIOUSLY? THAT'S YOUR LINE? SHE'S NOT COOL ENOUGH? WHAT THE FUCK DO YOU PEOPLE EVEN WANT FROM HER? WOMEN HAVE TRIED FOR YEARS TO "HAVE IT ALL" AND THEN WE GET YELLED AT FOR TRYING TO HAVE THE IMPOSSIBLE "ALL" BUT THEN IT'S NOT GOOD ENOUGH WHEN WE DON'T HAVE THE "ALL." IT'S FUCKING BULLSHIT.
THE DAY MY HUSBAND TOLD ME HE LIKED BERNIE, HE SAID, "I mean, how great is it to have a president who just doesn't even care how his hair looks" AND I EXPLODED "DO YOU THINK THERE EXISTS A WORLD WHERE A WOMAN COULD EVEN CONSIDER THAT?"
AND THE MOST MINDBLOWING PART? THIS ISN'T EVEN COMING FROM THE GOP! BECAUSE WHAT I AM SEEING IS THE SAME THING WE SEE WITH OBAMA ONLY ON THE MORE LIBERAL END OF THE SPECTRUM--PEOPLE WHO WOULD NEVER CONSIDER THEMSELVES BIGOTS IN ANYWAY BUT JUST KNOW THERE IS *SOMETHING* THEY DON'T CARE FOR ABOUT THIS PERSON. THEY REFUSE TO BELIEVE THAT SOMETHING COULD BE SKIN COLOR OR GENDER BUT FOR VERY MANY OF THEM IT ABSOLUTELY FUCKING IS.
I'M NOT SAYING THERE AREN'T REASONS SOMEONE SHOULD DISLIKE HILLARY OR PREFER BERNIE. THAT IS FINE. THAT IS YOUR JOURNEY. BUT LET'S NOT PRETEND FOR A SECOND THAT THERE WOULD BE *THIS MANY* ISSUES WITH HILLARY IF SHE WAS A GODDAMN MAN.
AND IF YOU COME AT ME FOR EVEN ONE GODDAMN SECOND WITH A "YOU JUST LIKE HER BECAUSE SHE'S A WOMAN" I WILL DESTROY YOU WHERE YOU STAND. I LIKE HER! I LIKE HER POLICIES, I LIKE HER PLANS, I LIKE WHAT SHE STANDS FOR, I LIKE THAT SHE'S GROWN AND EVOLVED AS A HUMAN AND POLITICIAN! I LIKE THAT SHE WAS FOR MANY OF US MY AGE ONE OF OUR FIRST ROLE MODELS OF A SMART, PROFESSIONAL, KICKASS WOMAN AND THAT SHE ISN'T AFRAID OF THE WORD "FEMINIST" AND I'M SICK OF HAVING TO APOLOGIZE FOR LIKING HER, FOR HAVING TO QUALIFY AND SEE YOUR SIDE AND RESPECT YOUR OPINION WHEN I FUCKING DON'T AND YOU FUCKING DON'T RIGHT BACK. I LIKE HER!
AND MOST OF YOU LIKE HER POLICIES AND PLANS TOO BECAUSE A) THEY'RE BASICALLY FUCKING OBAMA AND B) THEY'RE NOT THAT FUCKING DIFFERENT THAN FUCKING BERNIE.
THIS IS BASICALLY TWITTER RIGHT NOW:
Hillary: College should be affordable.
Twitter: Establishment puppet, no better than GOP.
Bernie: College should be affordable.
Twitter: DAD
AND THE THING IS--I LIKE BERNIE! EVERYONE LIKES BERNIE! BECAUSE CRAZY GRANDPA IS TOTALLY ELECTABLE BUT CRAZY GRANDMA NEVER COULD BE. BUT WHY DO WE HAVE TO HATE HER TO SHOW HOW MUCH WE LOVE HIM? SOCIALIST JESUS TAKE THE FUCKING WHEEL.
IT IS ABSOLUTELY GUT WRENCHING THAT THIS BADASS, IMPORTANT WOMAN HAS BEEN DIMINSHED AND WRITTEN OFF AND HATED HER WHOLE CAREER, HER WHOLE EXISTENCE AS A PUBLIC FIGURE. YOU LIKE BERNIE BECAUSE HE DOESN'T PLAY THE GAME, BUT FOR HILLARY RODHAM CLINTON, FOR A WOMAN, SHE HAS HAD NO OTHER CHOICE.
BUT THOSE WHO COME AFTER HER MIGHT.
SO, YES, I'M EMOTIONAL AND I'M YELLING. BECAUSE THIS IS FUCKING EMOTIONAL FOR ME. I WANT A FEMALE PRESIDENT AND I WANT PRESIDENT HILLARY CLINTON. I WANT BOTH OF THESE THINGS BUT MORE THAN ANYTHING ELSE I WANT WOMEN TO HAVE AN EQUAL FUCKING FAIR SHAKE. I'M SICK OF THIS STUPID BULLSHIT DISGUISED AS POLITICS, MASQUERADING AS POLITICAL OPINION.
SO FUCK EVERYTHING. I'M WITH HER.
Thank you for your time. Excuse me while I nope out of the comments for all eternity.
Another example of a lifetime of professionalism under attack.
In this case a faculty member is taking the heat for siding with student protests.
Melissa Click, Missouri Professor, Defends Her Actions Against Student Journalist
By DANIEL VICTOR
FEB. 19, 2016
In Melissa Click's view, one of her worst moments happened to be caught on video and seen by millions of people.
Ms. Click, a University of Missouri communications professor, was taking part in a student protest over racial issues in November when she grabbed at a student journalist's camera and enlisted other activists to help her with a call that ricocheted across social media: "I need some muscle over here!"
She has since apologized, and she has since been suspended by the university. Ms. Click has heeded advice to remain silent on social media and decline interview requests even as she was excoriated for what was viewed as an outrageous display by a member of academia.
Some conservatives saw her as a thuggish symbol of speech-intolerant higher education, while journalists protested her attempt to restrict the ability to document events in a public area. A petition to fire her attracted more than 3,500 signatures, while more than 100 Republican lawmakers in Missouri called for her ouster.
[snip]
Attempts by ordinary people to recover their reputations after spectacular downward spirals as public villains du jour is an emerging art form and business opportunity. Status Labs has worked pro bono to arrange Ms. Click's interviews and distribute professional head shots to replace the more commonly known image of her: a blurry, mid-yell frame from the YouTube video.

[snip]
Ms. Click's efforts to recast her narrative have been further complicated by the release last week of a video from the October homecoming parade that shows her cursing at a police officer trying to move protesters off a road. She defended that reaction as most likely being "fairly common for people pushed by police unexpectedly in the middle of an angry crowd."
In a statement, however, the interim university chancellor, Hank Foley, said, "Like many in our community, I watched newly released footage of Dr. Melissa Click directing a verbal assault against members of the Columbia Police Department during the homecoming parade in October 2015. Her conduct and behavior are appalling."
March 4, 2016
This American Life
aired a program related to the shame and blame theme that must be heard to be appreciated. This must be heard to be appreciated. No synopsis can substitute. It is a powerful illustration of shame and blame.
Here is the link to that program,
#581, Anatomy of Doubt.
Ira hears from a woman named Shannon about a phone call she got in 2008 that cast doubt on whether an 18 year old named Marie was telling the truth about being sexually assaulted. This idea leads to one of two investigations—one small and bad, and the other stunningly big and good.
The print original is at
The Marshall Project, An Unbelievable Story of Rape.
An UNBELIEVABLE STORY of RAPE
BY
KEN ARMSTRONG
&
T. CHRISTIAN MILLER
An 18-year-old said she was attacked at knifepoint. Then she said she made it up. That's where our story begins.
MARCH 12, 2009 LYNNWOOD, WASHINGTON
No one came to court with her that day, except her public defender.
She was 18 years old, charged with a gross misdemeanor, punishable by up to a year in jail.
Rarely do misdemeanors draw notice. Her case was one of 4,859 filed in 2008 in Lynnwood Municipal Court, a place where the judge says the goal is "to correct behavior — to make Lynnwood a better, safer, healthier place to live, work, shop and visit."
But her misdemeanor had made the news, and made her an object of curiosity or, worse, scorn. It had cost her the newfound independence she was savoring after a life in foster homes. It had cost her sense of worth. Each ring of the phone seemed to announce another friendship, lost. A friend from 10th grade called to ask: How could you lie about something like that? Marie — that's her middle name, Marie — didn't say anything. She just listened, then hung up. Even her foster parents now doubted her. She doubted herself, wondering if there was something in her that needed to be fixed.
She had reported being raped in her apartment by a man who had bound and gagged her. Then, confronted by police with inconsistencies in her story, she had conceded it might have been a dream. Then she admitted making the story up. One TV newscast announced, "A Western Washington woman has confessed that she cried wolf when it came to her rape she reported earlier this week." She had been charged with filing a false report, which is why she was here today, to accept or turn down a plea deal.
Her lawyer was surprised she had been charged. Her story hadn't hurt anyone — no suspects arrested, or even questioned. His guess was, the police felt used. They don't appreciate having their time wasted.
The prosecution's offer was this: If she met certain conditions for the next year, the charge would be dropped. She would need to get mental health counseling for her lying. She would need to go on supervised probation. She would need to keep straight, breaking no more laws.
And she would have to pay $500 to cover the court's costs.
Marie wanted this behind her.
She took the deal.