This is priceless, the real Miss America before al-Qaeda influenced the liberal judges: pic.twitter.com/f5YgnB4dNa
— Karl Sharro (@KarlreMarks) September 16, 2013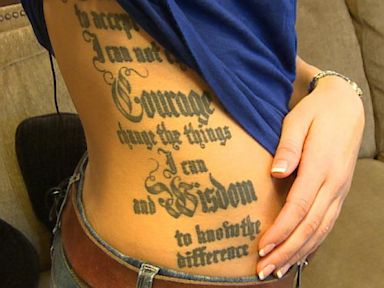 Miss Kansas Theresa Vail shows ABC News' "20/20"
her side tattoo, which features the text of
the "serenity prayer."
Miss Kansas Theresa Vail: Tattooed Soldier, Opera Singer Breaks Miss America Stereotypes
Sept. 12, 2013

Theresa Vail, the 22-year-old senior at Kansas State University representing the Sunflower state at this year's Miss America pageant, is not your typical glamour girl. This week she's making headlines after she took to the stage in a red bikini during Tuesday night's preliminary swimsuit competition in Atlantic City, with her tattooed midriff in full view.

"I love breaking stereotypes. I love doing what society says I shouldn't because of my gender," she told ABC News' "20/20."
Odds and Ends http://t.co/iJHNWi4MTa
— The Marmot's Feed (@rjkoehler) September 16, 2013
Rouhani: Iran will accept any elected Syria ruler http://t.co/AbQUtfYey5
— Today's Zaman (@todayszamancom) September 16, 2013
"Syria plans a presidential election in 2014, but few in the opposition take the vote seriously or believe it can be held amid the country's civil war."
18 Paintings You Won't Believe Aren't Photographs http://t.co/zVhwt8f3Tp Really cool stuff ! :) #photos #paintings #art
— Benjamin Wiacek (@Nefermaat) September 16, 2013
This is one of the eighteen images at the link. Wow!
Collected Media And Links Of Munitions Linked To Alleged Chemical Attacks In Syria http://t.co/PdTR8gSU9H
— Brown Moses (@Brown_Moses) September 16, 2013
This collection of You Tube and other links will take your breath away. Most outside observers have no idea about the magnitude of the disaster unfolding in Syria.
Juan Cole's essay this morning
should be required reading for anyone in the habit of oversimplifying complex global challenges.
So the hawks, whether of the manipulative and vicious sort or of the humanitarian sort, who keep squawking that the US needs to do something are beginning with the premise that the US can do something effective. It can't.
That the Syria situation is so like that in Iraq makes the analogy compelling. I am not saying that all interventions are doomed. Kosovo and Bosnia aren't paradise, but they turned out just all right. But Syria is not like Kosovo, where you had a compact territory being invaded by another ethnic group. Syria is all mixed up. The tanks are inside the cities. The cities are multi-ethnic for the most part. There is nothing you could bomb without killing the civilians you were hoping to protect (Syria differs in this way also from Libya).
It is human nature to think, when we see an ongoing great slaughter, that something must be done. But because of the ease of availability of high explosives and other weapons and the breakdown of social consensus, there is little the outside world could hope to do. Arming the rebels, as Obama has pledged to do, will not, let us say, reduce the death rate.
It's much longer than this.
Do take time to read the whole post.
~~~~~~~~~~~~~~~~~~
Funny spoof about secret KGB chess school http://t.co/YjMk0DnSPl
— Edward Lucas (@edwardlucas) September 15, 2013
Yeah, it was a spoof. But it took a real expert to find out.
— Karl Sharro (@KarlreMarks) September 16, 2013
~~~~~~~~~~~~~~~~~
On the two wars being fought over Syria: http://t.co/8edWZJBqGH
— Kenan Malik (@kenanmalik) September 16, 2013
Semi-long read. Highly recommended. Sample here...
That Vladimir Putin has been able to promote himself as the seeming voice of reason and the moral conscience of the world tells us less about the plausibility or moral rightness of the Russian plan than it does about the incoherence and uncertainty of Western policy. Such is that incoherence and uncertainty that Barack Obama has been simultaneously snookered and bailed out by the Russian president. The man who once represented 'Hope' and 'Change', who came to the White House as the anti-war president, and who promised to bring moral order to America's foreign policy, now finds himself clinging to the moral coat-tails of a leader who makes George Bush seem like a hippy.
Al-Qaeda must be distressed about the tweets linking them to #MissAmerica. All the hard work and people still don't get their core message.
— Karl Sharro (@KarlreMarks) September 16, 2013
"Miss America? You mean Miss 7-11" http://t.co/J7YkUTMasn #racism via @elpy314
— Peter Daou (@peterdaou) September 16, 2013
Miss America crowns 1st winner of Indian descent; racist tweets flow
By Leslie Bentz
(CNN) -- No sooner had the tiara been placed atop her head than a barrage of racist tweets flooded the Internet.
"If you're #Miss America you should have to be American," said one.
"WHEN WILL A WHITE WOMAN WIN #MISSAMERICA? Ever??!!" screamed another.
Nina Davuluri is American. She just happens to be of Indian descent. In fact, she's the first Indian-American to be crowned Miss America.
But the tweets that followed the 2014 pageant in Atlantic City on Sunday night didn't focus on how it's the second consecutive year that a Miss New York has taken the crown, or about the judge's questions (including ones about Miley Cyrus and Syria).
They were about Davuluri's heritage.
"Well they just picked a Muslim for Miss America. That must've made Obama happy. Maybe he had a vote," vented one person.
Not that it bears pointing out, but Davuluri's not a Muslim -- and the president didn't have a vote.
The 24-year-old Davuluri, who's from Syracuse, competed on a platform of "Celebrating Diversity through Cultural Competency." For the talent portion, she performed a classical Indian dance fused with Bollywood moves.