"Committees Approve Bill to Issue New Birth Certificates to Transgender People"feedly.com/k/15Fj87V
— Prerna Lal (@AQueerDesi) June 7, 2013
The D.C. Council is poised to approve a bill that wil bring the District in line with 23 states and the federal government in protecting the identities of transgender individuals who undergo gender transitions. With unanimous votes yesterday by the Committee on Health and today by the Committee on the Judiciary and Public Safety, the JaParker Deoni Jones Birth Certificate Equality Amendment Act will go before the full Council for a final vote before the legislature breaks for the summer.

Under current D.C. law, people who have their names legally changed are required to publish notices in a local newspaper once a week for three weeks after the procedure. But for transgender people, this requirement can lead to an inadvertent outing.

The bill approved by the committees this week allows transgender people to forgo that step. Instead, people who go through gender reassignments would have their original birth certificates sealed and be issued new birth certificates with the proper gender marker with the sealed affidavit of a medical doctor. The bill includes people who switch genders with or without surgery; currently, only people who undergo expensive sexual reassignment procedures are eligible to have the gender markers on their birth certificates switched.
Justin Bieber to pay $250,000 to go into space. How much would it cost to keep him there? No, I'm not a belieber! goo.gl/gohc3
— Khaled Diab (@DiabolicalIdea) June 7, 2013
More excellent analysis - The Gezi Park protests: Not the Turkish media's finest hour wp.me/p1Th8q-aN via @wj_armstrong
— Aaron Stein (@aaronstein1) June 7, 2013
North Korea calls South Korea "Just kidding. Come over for tea" mobile.reuters.com/article/idUSBR…
— Allan Schoenberg (@allanschoenberg) June 7, 2013
SEOUL (Reuters) - North Korea reopened a Red Cross hotline with South Korea on Friday and invited officials from Seoul to talks over the weekend, a further sign the North wants to improve ties after a barrage of threats to wage war this year.

On Thursday, North Korea proposed talks to normalize commercial projects, including a joint industrial zone it shut down at the height of tension in early April.

North Korea's moves come ahead of a summit between Chinese President Xi Jinping and U.S. President Barack Obama on Friday in California. North Korea's actions, including its latest nuclear test in February and threats to attack South Korea and the United States, are likely to be high on the agenda.

North Korea had stopped responding to calls on the Red Cross hotline in March. Another hotline, used by military officials, remains down.

"We appreciate the fact that the South side promptly and positively responded to the proposal made by us for holding talks between the authorities of both sides," the North's official KCNA news agency quoted a spokesman for the Committee for the Peaceful Reunification of Korea as saying.

The two Koreas have not held talks since February 2011.
Must read of the day - Democrats, liberals and the AK Party todayszaman.com/newsDetail_get… by the always excellent @kinikli88
— Aaron Stein (@aaronstein1) June 7, 2013
(
Turkey wonks only.
This column was also marked important by Misha Glenny, another writer/ journalist I follow, very sharp, doesn't often Tweet.)
In May, Kerry quietly waived the law that would prevent the US from sending huge arms shipments to Egypt thedailybeast.com/articles/2013/…
— Sharif Kouddous (@sharifkouddous) June 7, 2013
Plus ça change...
North Korea's Colossal Monument Factory: businessweek.com/articles/2013-… Its 4,000 workers churn out NK propaganda & are also available for hire @bw
— Christina Larson (@larsonchristina) June 7, 2013
Perhaps the world's biggest art factory, Mansudae employs roughly 4,000 North Koreans, including some 1,000 artists, handpicked from the country's best academies. These favored few are the only artists officially sanctioned to portray the Kim family dynasty, and their primary task is to churn out propaganda paintings, murals, posters, billboards, and Soviet-style monuments deifying the country's Great, Dear, and Supreme Leaders, also known as Kim Il Sung, Kim Jong Il, and Kim Jong Un. But Mansudae does more than just set the stage for North Korea's self-celebration. The studio also runs a thriving multimillion-dollar side business: building statues, monuments, museums, sports stadiums, and at least one palace, for a long list of countries across the world, many of them in Africa.
[...]
The quality of the work was impeccable, but the Germans did have one complaint: Their art nouveau fountain had been rendered with a slightly hard, angular communist touch. "The woman had kind of a cement block hairdo," recalls Sturm. "It wasn't anything that couldn't be fixed. We explained to the head sculptor that the socialist realist style wasn't really in vogue in Frankfurt at the moment. He was very receptive and softened the look accordingly."
[==> Looks like an interesting read. Several screens. And no, I didn't read it all.]
Afghan children running away after a blast in Kabul.twitpic.com/cvr4lc
— Mahir Zeynalov (@MahirZeynalov) June 7, 2013
Probably my favorite of the CNN-penguin mainstream media silence in Turkey memes so far! #occupygezi #occupygezinyc twitter.com/ILoveArctic/st…
— Zafer Avindik (@ILoveArctic) June 5, 2013
~~~~§§§~~~~
Kristin Beck, Transgender Navy SEAL, Comes Out In New Book bit.ly/17ta5LA
— S. Abbas Raza (@SAbbasRaza) June 7, 2013
The United States military's ban on transgender service members faces a challenge, and her name is Kristin Beck.

Beck is an author and activist who served 20 years as a Navy SEAL on 13 deployments and was once a member of the elite SEAL Team 6. She is also transgender.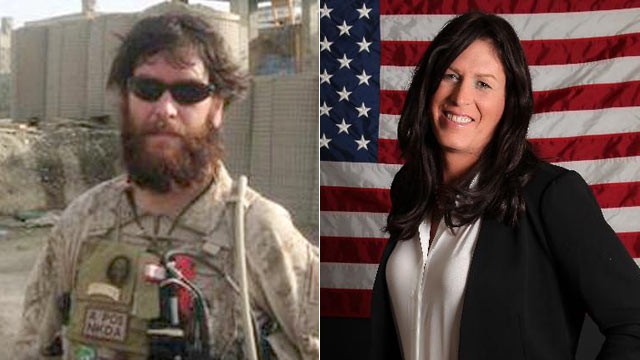 Kristin Beck, formerly Chris, penned her story of going from an
elite Navy SEAL to a woman in the book "Warrior Princess."
Beck comes out publicly as transgender in her new memoir, Warrior Princess: A U.S. Navy SEAL's Journey to Coming out Transgender, which hit stores June 1. The book describes Beck's life as Chris, a Christian boy who grew up on a farm in the middle of nowhere and became a Navy SEAL. It describes someone who everyone viewed as "a hero, a warrior, a man" but who knew deep down she was transgender.

"Chris really wanted to be a girl and felt that she was a girl and consolidated that identity very early on in childhood," Anne Speckhard, a research psychologist who co-authored the biography with Beck, told ABC News. Beck suppressed her transgender identity for decades while training as a SEAL and fighting in Afghanistan, "turning off" her sexuality and consuming herself with battle.
~~~~§§§~~~~
Historic backstory -- Bahrain in 1956 and an interview with the fighter Abdulaziz Al-Shamlan
RT @bintbattuta 1956 BBC report on the political situation in Bahrain youtube.com/watch?v=UNS7li…
— Diane Al-Habieli (@al_habieli) June 7, 2013